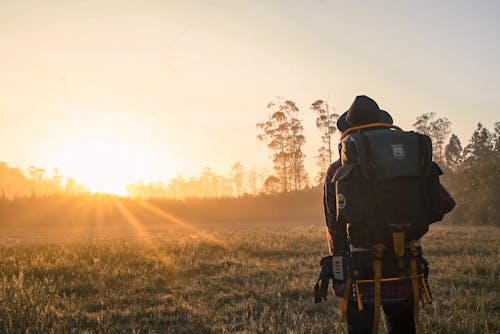 Last year, I made a very important decision that changed my life. The decision to rise above who I thought I was, and recreate someone new. My dorm room is tiny. In between a closet and bed. I sit at a desk littered with research papers and an empty bowl of oatmeal– I had in the morning before rushing out for my 9:30 am class. It is Friday. In front of me is my 13.3. inch MacBook pro.
I feel that pressure in my chest again. It's an uneasy feeling. This normally happens when my intuition is trying to tell me something. My head begins to swim with questions, "What is it this time? What is the universe trying to tell me?" Prior to having episodes of uneasiness, I'd been telling myself, "I need to change, redesign my life, myself and start afresh."
"This is it," I say to myself. No more procrastination. My self-reinvention starts now.
Fast-forword to today, I'm a new person. That uneasy feeling is no more. I feel brighter, energetic, and more confident. I feel as though I own my life now. I'm not a spectator watching others, I'm the owner.
You too, can feel this way, if you make the decision to own your life and breathe life into yourself.
For me, self-reinvention means cleansing my life of as much negativity as I can. It means looking inside myself, letting go of bad behaviors, becoming self-aware, thinning out relationships that no longer serve me, and cultivating new habits that are in my best interests.
One thing to know as you embark on this hard, but yet, rewarding journey: Never feel guilty for wanting to change or changing. Just like you're entitled to life, you're entitled to self reinvention.
It's your right.
As human beings, with feelings and emotions, it's natural to worry about other people's judgement. But you have to realize that people who are for you, will be happy for your growth. They might even be motivated to reinvent themselves because they know that change is one thing that is constant.
Change is inevitable. Growth is optional.
– John Maxwell
You need to reinvent yourself because happiness looks good on you. Your growth will make you happy. Don't agree? Try it and see. With self reinvention, comes an authentic identity. A real alluring personality.
Here are some of the changes I've made:
I created a vision board.
While visualizing in your mind, the type of person you want to be and the life you want is important, having a vision board provides a sense of purpose and direction for your life. It will inspire you to take action. To soldier on when the going gets tough. Whenever I feel stuck or unmotivated, I revisit my vision board.
What to do: Make a Pinterest account and create your own vision board. What are your aspirations? What do you want out of life? Is there a goal you want to achieve but motivation is nowhere to be found? Creating a vision board on Pinterest can serve as an invaluable tool to motivate and inspire you to get up and take action.
I started meditating and exercising frequently
As you start your self-reinvention journey, negative thoughts, anxiety, and sometimes imposterism are bound to come up. You know that feeling where you feel as though you've grown into a better person, where you're proud of your growth, then all of a sudden, you feel like you're going to fall back into old habits, or you feel like you need to be hard on yourself to maintain the new person you're cultivating. Meditation and exercise can and will eliminate those feelings, but you have to be consistent to see results. Every morning after my meditation, I go for a run.
What to do: Get into the habit of exercising and meditating. There are youtube videos and podcasts on meditation that can serve as a guide if you don't know where to start. For exercise, start with walking or jogging. Create a daily schedule that can allow you to make these life changing practices a habit.
I read more often
I've always been a voracious reader, so reading is something I love. My favorite genre is nonfiction but lately I've been reading memoirs. I'm currently reading Becoming by Michelle Obama. By reading about the life experiences of other people, you're able to look into your own life, you're able to see different ways of being in the world. Reading will introduce you into worlds different from yours.
What to do: Not everyone loves reading but it's a habit that can be developed. Start small, pick up poetry, read and instead of trying to make sense of what the author is saying, interpret it in your own way, from your own understanding. Allow it to feed your imaginations, let the words speak to your soul and in no time, you would be reaching for books of every kind because you want to know more.
I start my day with positive affirmations
Positive affirmations go a long way. The words of the mouth are very powerful. I strongly believe that whatever declaration we make out loud gets picked up by the universe. My mom always say "the mouth was used to create the world, and the mouth will be used to destroy it so be careful what you say." Life is hard and self reinvention is even harder in a world where people fear change, where most people, if not all, find it hard to accept that someone can decide to become a new person, (turn over a new leaf) but with positive affirmations and mindset, you can overcome every obstacle and adversity.
What to do: Start your day with positive affirmations. Say it out loud with confidence. Look at yourself in the mirror as you say it. Write it down. Remember, saying it has no effect if you don't believe it. You must believe it.
I released relationships that no longer served me
Get acquainted with the art of letting go. Letting go of people we love can be painful and for some people, it is the hardest thing to do but you must let go and move on for your own good. Clinging onto relationships that no longer serve you defeats the whole purpose of self-reinvention. You can't take everyone with you but you can love them from a distance.
What to do: Let go
Final Thoughts
There's no right time to redesign your life. You can start now, tomorrow, or whenever you're ready. You're allowed to recreate yourself and the life you've always dreamed of. You can become that person you've always wanted to be. It's your right. Keep reinventing yourself because you can. Go on and start your journey, I'm cheering you on.