Creating a healthy lifestyle starts with baby steps. This includes taking the time to learn about your body, your nutritional needs, and what exercises you enjoy. By being kind to yourself, making small changes to your diet, and living a more active lifestyle, you can reach your fitness/health goals the right way.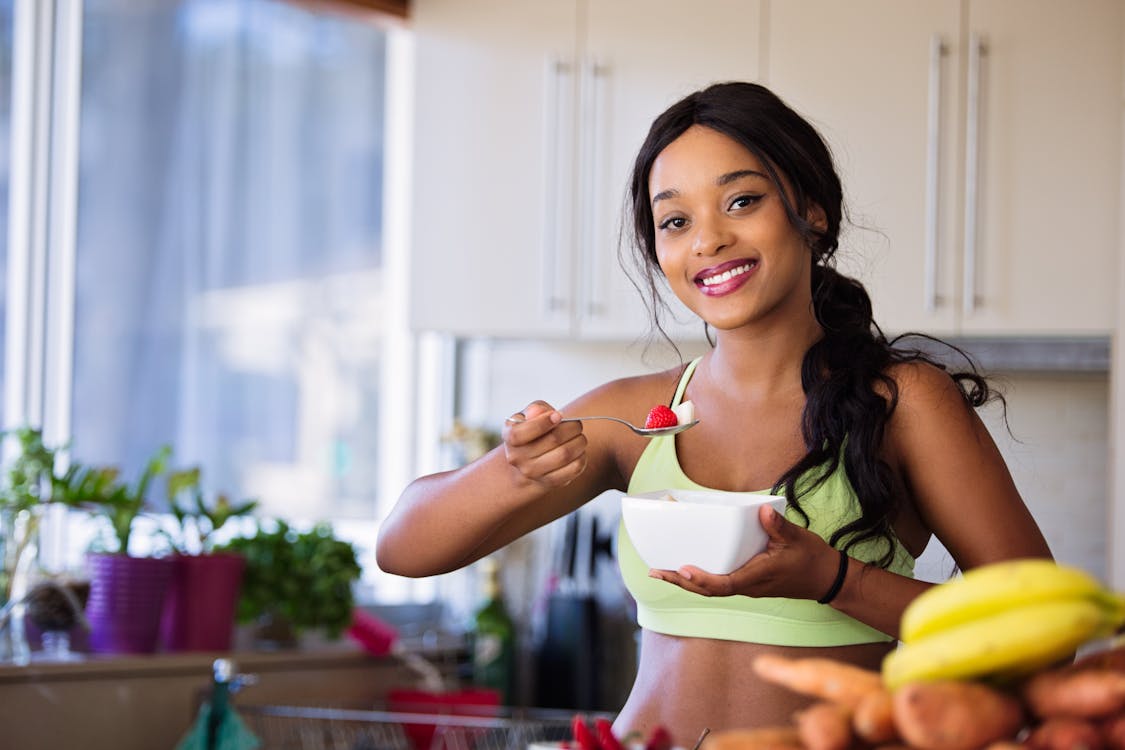 As a health enthusiast, one question I get a lot from people is how I look fit even though I eat a lot. Many people start out on their health journey thinking that they have to starve themselves, spend 2 hours in the gym, or eliminate their desserts and favorite meals to look fit. Do you know you can eat a lot and still look fit?
Here's 8 tips on how I eat healthy without eliminating my favorite meals or starving myself:
1. I have a daily routine that I stick to
As I mentioned in a previous post, I like to follow rules, thanks to boarding school. Having a routine and a schedule helps me manage my stress levels and ensure that I do things the right way. I have a set time for eating, sleeping, and exercising. With a lot of companies allowing employees to work remotely, you can create a flexible schedule for yourself that will not only allow you to get your work done, but will also allow you to engage in fitness activities. If you're still working onsite, you can still create a routine and stick to it.
What to do: Set alarms on your phone or alarm clock for your daily activities. E.g. bedtime-10:30 pm, morning run-6:30 am, breakfast-8:00 am, work project- 10:00 am etc. This way you stay on top of your tasks and hold yourself accountable.
2. Nutrient dense foods are staple foods in my diet
Oatmeal (favorite meal), spinach, carrots, sweet peppers, asparagus, tuna, salmon, egg whites, chickpeas, sweetpeas, strawberries, and broccoli are foods I consume daily. Not only are they filling and nutritious, but they are also low in calories. By filling my plate with nutrient dense foods, I can eat to my heart's content.
What to do: Fill half your plates with fruits and vegetables at each meal.
3. I don't shop when I'm hungry & I skip out on snacks during grocery shopping
If you struggle with self-control, then it's in your best interest to eat before grocery shopping. Shopping on an empty stomach can have an influence on your food choices. In fact, you're more likely to purchase high-calorie / junk foods you can eat straight out of the bag. How do I know this? Well, I've experienced it more than once and it's not a good feeling. Choose "real" foods such as whole-grains, nuts and seeds, seafood and legumes. For snacks, I normally get carrots, cucumbers, unsweetened rice cakes, and roasted edamame. I also make my own snacks from vegetables.
What to do: Eat before shopping, make a list of all the staple foods you need and skip out on the junk food.
4. I eat carbs
There's a lot of misinformation out there, especially about carbs. Carbs are not your enemy. Your body needs energy to function. It's the type and quantity of carbs that are important. There are high fiber carbs such as oats, legumes, quinoa plantain, and vegetables that improve metabolic health and reduce risk of heart disease. Cutting all carbs can reduce energy levels and cause fatigue.
What to do: Reduce your intake of white rice and add high fiber carbs to your diet.
5. I get 7-8 hours of sleep everyday
We live in a fast-paced world where we have to keep up with work, school, hobbies, and for parents-children. Sleep deprivation can affect how we show up for these aspects of our lives and our eating habits as well. Research has shown that "sleep patterns influence ghrelin. Sleep-deprived adults tend to have higher ghrelin levels, more hunger, and less feeling of fullness compared to adults who get seven-to-nine hours of sleep."
What to do: Leave office work at the office, turn off your phone, dim the lights, and go to bed!
6. I exercise regularly
Daily exercise is a good way to reduce risk of heart disease, increase energy levels, and improve blood circulation which in turn, promotes new skin cells and youthful glow. Exercise also reduces feelings of anxiety and depression, so, making it a daily part of routine is not a bad idea. My favorite exercise is running and stair climbing with weights.
What to do: Try different exercises and find out what you like. Your workouts don't have to feel boring or dreary which is why it's important to try different things and also switch up your routine occasionally.
7. I drink a lot of water and tea
Honestly, the last time I had soft drinks was in secondary school. The only liquids I drink are water and tea. I make sure to drink a gallon of water and 3 cups of green tea daily. This helps with bowel movement, glowing skin, and weight maintenance. I always eat when I'm hungry, but I'd drink water first to make sure I'm not just thirsty. If I'm still hungry after drinking water, then I'd eat.
What to do: Drink a gallon of water everyday. Try different teas and find out what you like.
8. I satisfy my sweet tooth
You don't have to ditch your favorite dessert or sugary fruits to live a healthy life. In fact, satisfying your sweet tooth occasionally is important to sustain a healthy lifestyle. Cake is my favorite dessert and baking is one of my hobbies, so, I always bake my own cake from the scratch with vegan ingredients. Sometimes, I'd buy my favorite cheesecake and eat in moderate portions.
What to do: Eat your favorite cake and cookies in moderate portions. The goal is to create a healthy and happy lifestyle where you enjoy your meals and feel satisfied. Depriving yourself of your favorite comfort foods can cause binge eating in the long-run.
Final notes: The goal is to create a life you're proud of, a life where you feel calm and satisfied, a life where you feel happy. Food is there for you to enjoy. Depriving yourself of the nutrients that your body needs is not sustainable in the long-haul. As you start your journey or incorporate the tips I mentioned above into your everyday life, remember to take it one day at a time.